We're glad you found your way to us. With our Hot Rod Fun Tours you will experience the city at Lake Constance and its surroundings in a completely new way. You will always be the center of attention, because our Hot Rods are the eye-catcher.
For all our tours there are vouchers in our shop. For stag parties we offer individual Hot Rod Fun tours to your desired destinations. Also check our current event offers.
Have fun and off you go!
Hot Rod Fun Tours in Bodensee
Buy vouchers from Hot Rod Fun Bodensee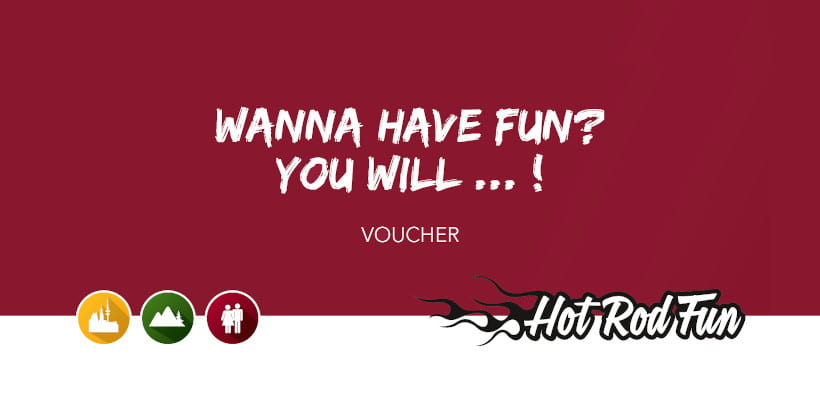 The joy is great. Whether as a Christmas present, an anniversary gift or a birthday present – vouchers from Hot Rod Fun delight everyone. Simply go to our booking tool above and select the Vouchers tab. You will then receive a complete overview of which vouchers we currently offer. The duration is 3 years by the way.
Hot Rod Fun Bodense Events
A warm welcome from the largest city on Lake Constance! From Constance we show you the beautiful nature in the southern tip of Baden-Württemberg. In ourHot Rods the airstream whirls around your ears while you enjoy the very special sightseeing in Konstanz from the asphalt. Of course, we also drive out of the city and explore with you the landscapes of the Seerhein between Obersee and Untersee.
On our city tours we will show you the highlights of Constance We take a look at the historic old town, which has its character from the 12th to 15th century. The town hall and the Schnetztor are the best representatives of these times. The Powder Tower and the Rhine Gate Tower on the Rheinsteig also convey the historical significance of Constance to you. Of course we will also pass the harbour with you, where our statue Imperia welcomes the arriving ships.
You will discover the peninsula and the shores of Lake Constance on our country tours. We offer you the perfect mixture of landscapes and proximity to water. With up to 88 km/h we drive on the country roads. We also take care of the perfect moments if you have special wishes. This is true for stag parties as well as for the best romance for two. After all, the famous yes-word has to be skillfully staged. Hot Rod Fun is happy to provide the right atmosphere so that your plans succeed in the best possible way! Just contact us and we'll put together the right package for your event.
Opening Hours:
MO-SU 09:00 am - 07:00 pm

Please contact us to make an appointment!


© 2019 Hot Rod Fun. All Rights Reserved.