The first Classic Hot Rods hit the American road in the early 20s. Almost 100 years later, in line with the start of the 2020s, this concept was brought to Cologne in a modern version.
The miniature hot rod replicas are an absolute eye-catcher and are already driving in guided tours through several cities of Germany and some neighboring countries.
CITY TOURS DIFFERENT.
From March 2020 onwards we offer a daily CITY TOUR through the beautiful "Veedel" (Districts) of Cologne. We do not only want to offer you a tour, but also bring you closer to "Dat Kölsche Jeföhl" (The Cologne Lifestyle) and show you corners that can be new territory even for the locals of Cologne.
Starting from our pride, the Cologne Cathedral (UNESCO World Heritage Site since 1996), over the Cologne Old Town, the "Ringe", Rheinterrassen, Zülpicher Straße, Poller Wiesen, Kranhäuser, Aachener Weiher, there are a dozen beautiful corners to explore in the city. In addition, Cologne is the most important media city in Germany and home to many TV studios in which German television history was written.
Not to be forgotten are our world famous Kölsch breweries and the 7 Cologne bridges, which you should pass via walking or driving. It is spectacular and every corner has its own story to tell.
The Rhinelander is a cheerful nature and often a very open personality who loves carnival and stands for tolerance and open-mindedness. That is why there is not only the classic carnival (parade) in spring, but now also in August, under the name of "Jeck im Sunnesching".
In addition to the carnival, our Christopher Street Day attracts massive attention every year. Cologne has been recognized as a model city for tolerance for many years and offers a uniquely colorful parade in summer.
Apart from Cologne's story-telling corners, there is more worth offering in our portfolio.
COUNTRY ROAD BEAUTY.
With our COUNTRY TOUR we would like to introduce you to the green ambience of Cologne. Between wide field landscapes and wonderful sections of forest we drive past beautiful old castles that are assigned to the region of Bergheim. It is definitely worth stopping here to take a nice souvenir photo. Furthermore, as part of the route is the Garzweiler lignite mining, which became pretty famous and now covers an area of 66 square kilometers. We from Cologne also affectionately call it the Cologne Grand Canyon. 🙂
Within these 3 hours you smell a lot of fresh country air and get to know Cologne's astounding periphery.
EVENTS AND SPECIALS
We are flexible when it comes to tours. If you have something in mind for a company event or your bachelor party or have general inquiries, please do not hesitate and contact us directly, because there is no such thing as "Sorry, this seems impossible!"
Moreover, we can have the hot rods wrapped according to the theme and thus offer an extra eye-catcher.
Of course, you can also give away our hot rod tours. We offer vouchers for every tour and every budget. In addition to the classic gift voucher, you can give away Hot Rod tours for Valentine's Day, anniversary, also to a good friend or colleague. Or how about as a means of distribution, raffle or employee motivation?
Our vouchers are of course also available in worth coupon and are valid for up to 3 years in case a storm is raging at the planned date. Give your friends or relatives a little bit of horse-power ride with a real Hot Rod Fun tour.
Looking forward seeing you soon
Your Hot Rod Fun Cologne.
Your tour with Hot Rod Fun Cologne
Buy vouchers from Hot Rod Fun Cologne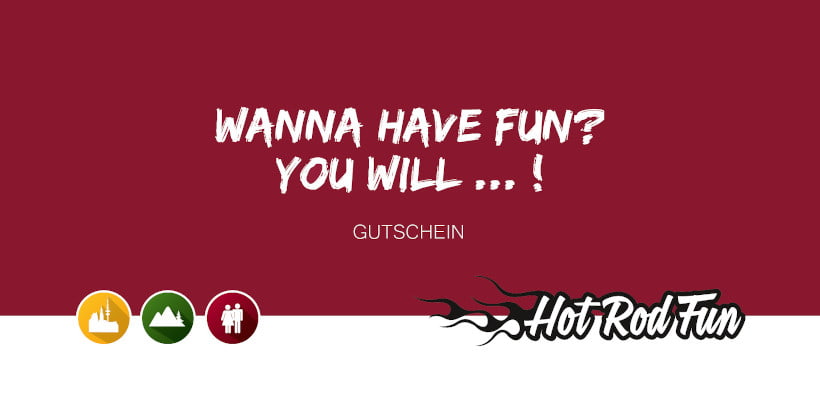 The joy is great. Whether as a Christmas present, an anniversary gift or a birthday present – vouchers from Hot Rod Fun delight everyone. Simply go to our booking tool above and select the Vouchers tab. You will then receive a complete overview of which vouchers we currently offer. The duration is 3 years by the way.
Events with Hot Rod Fun Cologne
© 2020 Hot Rod Fun. All Rights Reserved.