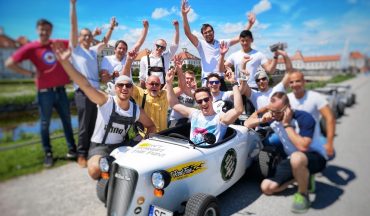 Hot Rod Fun Rostock Specials
Daily we offer you guided Hot Rod Fun Tours through Rostock. A completely new experience of the streets of the region, paired with pure driving fun!
Adventures weld together. Experience freedom together with customers or employees at a hot rod event. Try something new together. Stay open for an original idea and an extraordinary experience with lasting memories and a unique advertising effect for your company.
Duration: from 2 hours
Price: from 99 € incl. Rental helmet and beanie
Reduction of deductible to 2.500 €:  For only 25 € reduction of the excess in case of damage to 2.500 €.
Cancellation until 24H before booking date: For only 25 € you can cancel the booking up to 24 hours prior to bookin date.
All-Inclusive-Package (Deductible 2.500): For only 45 € reduction of the excess in case of damage to 2.500 € and no cancellation costs.

A minimum age of 18 years is a prerequisite.
You need a driving license class 3 | B (car) The license must be presented before departure.
Maximum height of about 1.95 m, with a hip height of 1.20 m
Minimum height of about 1.60 m
Maximum body weight of 125 kg
The zero-alcohol-limit applies (Random controls are carried out)
No influence of drugs or other drugs that affect the ability to drive
Helmets are compulsory, helmets are provided free of charge
For safety reasons, Hot Rod Fun tours only take place in suitable dry weather.
Tours which can't be done due to the weather conditions will be postponed or will be credited as a voucher.
The agreement of a new appointment takes place after consultation.
You will receive a briefing before departure. Participation in this briefing is mandatory. If you would like to inform yourself in advance or if you would like to have a trial seat, we are at your disposal.
Our terms and conditions apply.
Acceptance of our disclaimer is a condition of participation, which must be signed before departure.
© 2019 Hot Rod Fun. All Rights Reserved.