We're glad you found your way to us. With our Hot Rod Fun Tours you will experience the Baden-Württemberg capital and its surroundings in a completely new way. You will always be the center of attention, because our Hot Rods are the eye-catcher.
For all our tours there are vouchers in our shop. For stag parties we offer individual Hot Rod Fun tours to your desired destinations. Also check our current event offers.
Have fun and off you go!
Hot Rod Fun Stuttgart Tours
Buy vouchers from Hot Rod Fun Stuttgart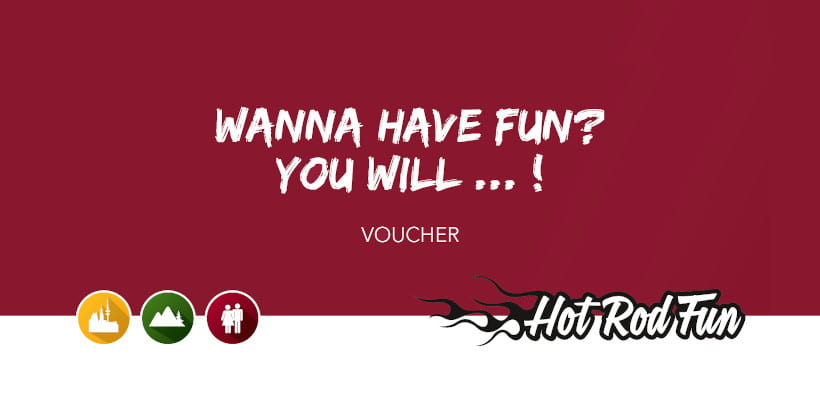 The joy is great. Whether as a Christmas present, an anniversary gift or a birthday present – vouchers from Hot Rod Fun delight everyone. Simply go to our booking tool above and select the Vouchers tab. You will then receive a complete overview of which vouchers we currently offer. The duration is 3 years by the way.
Hot Rod Fun Stuttgart Events
Welcome to the country. And you can not describe it better, because our Hot Rod Fun Station, which opened in 2019, is not located in the city center of Stuttgart, but on the easily accessible border of the capital of Baden-Wuerttemberg. From there we can explore the surrounding countryside with its flowering rapeseed fields, green meadows and small villages. The Rems-Murr-Kreis is one of the popular excursion destinations of the Swabians.
During our Hot Rod Fun City tours we visit the historic old town center with half-timbered and bourgeois houses from the Baroque period as well as the Schlosslatz, the Max-Eyth-See and the TV tower.
There are also numerous castles, since here the Hohenstaufen were located. These include the Solitude Castle and the Bärenschlössle. Should it take you with us into the country, you will see numerous vineyards, because here with us the exquisite Swabian wines are produced like the Trollinger, Dornfelder or the Lemberger. Also our lake landscape with its untouched shores is legendary. In our surroundings lie the Ebniesee, Eichstrutsee, the Breitenauer lake as well as the Eichensee.
If you are in the mood for romance, we recommend our Candle Light Dinner Tour, which leads us directly to the castle Waldenstein. In general, you can also do Hot Rod Fun – wish tours for groups or companies with us. We offer a variety of individual event components. In this sense, "Ade" and soon to a Hot Rod Fun Tour!
© 2019 Hot Rod Fun. All Rights Reserved.