We're glad you found your way to us. With our Hot Rod Fun Tours you will experience the Austrian city and its surroundings in a completely new way. You will always be the center of attention, because our Hot Rods are the eye-catcher.
For all our tours there are vouchers in our shop. For stag parties we offer individual Hot Rod Fun tours to your desired destinations. Also check our current event offers.
Have fun and off you go!
Buy vouchers from Hot Rod Fun Wels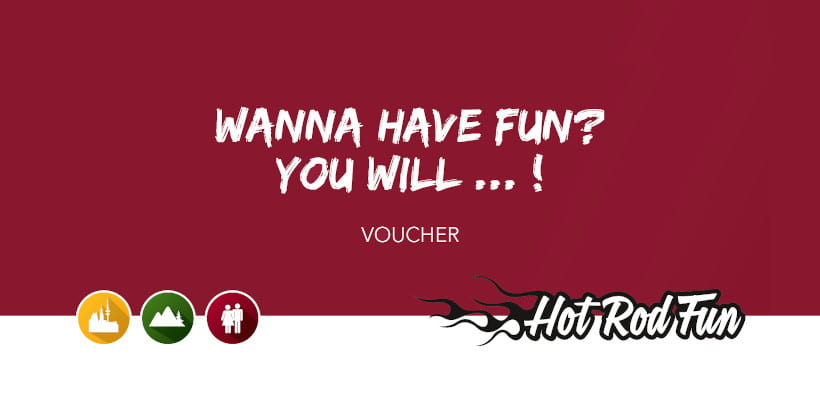 The joy is great. Whether as a Christmas present, an anniversary gift or a birthday present – vouchers from Hot Rod Fun delight everyone. Simply go to our booking tool above and select the Vouchers tab. You will then receive a complete overview of which vouchers we currently offer. The duration is 3 years by the way.


Welcome to beautiful Upper Austria,
more precisely in the picturesque town of Wels with its historic churches and towers. Here, in one of the most important garrison towns of the Roman Empire, we opened our Hot Rod Fun Station in 2018.
On our tours you can experience a lot of fun and at the same time get to know fantastic buildings and landscapes around the historic town centre. Active sightseeing.
Among the landmarks are the parish church, which is the oldest religious building in the city, and the Herz-Jesu-Kirche with its double tower. Towers are part of the cityscape anyway. Most of our castles have a tower, such as the beautiful Polheim Castle and the historic moated castle in the Lichtenegg district.
Wels is crossed by two small rivers, the Mühlbach and the Grünbach, which provide a fresh climate.
The romantic flair is ideal for our picnic tours, which can be booked with a friend, girlfriend or as a group. In general, the culinary aspect plays an important role on our Hot Rod Fun tours. In some of our offers you can enjoy legendary Austrian specialities such as sausages and meatballs. Wine and beer are of course served after the tours. Because on all our trips we take the non-alcoholic one to yours and the protection of the other tour guests very seriously.
Wels is also an important trade fair location in Austria. Should you be represented there as a company, we offer numerous unforgettable trade fair specials. Your customers will be thrilled when they are guided through Wels and its hilly surroundings after successful trade fair days. Feel free to ask us. We will tailor a tailor-made programme for you.
Our Hot Rod Fun Tour offer includes trips through the city centre with its sights as well as country tours, which take us far into the area around Wels with its terraces and hilly landscapes, which still date from the Tertiary period. The area is one of the most beautiful Austria has to offer.
Have fun with us!
Opening Hours:
MO-SU 09:00 am - 06:00 pm


© 2019 Hot Rod Fun. All Rights Reserved.