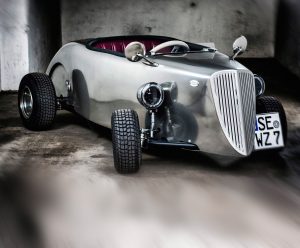 In our manufactory we make individual dreams of Wenckstern Hot Rods come true.
According to the motto #everythingispossible, we build your unique WENCKSTERN© Hot Rod by hand according to your specifications. Whether as Roadster or PICKUP, whether for the private use or as advertising medium for your enterprise. In any case, the result will be your individual unique piece. At www.wenckstern.com you'll find some initial inspirations of what's possible. We are curious, which ideas you have.
Since 2008 we have been making car dreams come true at Wenckstern Manufaktur.
By hand. With heart. In Norderstedt. Developed from a vision.
Maik (Wenckstern), managing director of Wenckstern GmbH, had the idea together with his brother while barbecuing and a glass of beer (too much). Basically with the ulterior motive of developing something that does not yet exist on the streets – without commercial ulterior motives. That's how they came up with the Hot Rods.
The incentive for this was already in the planning phase the private environment, which either said, you will never get so relaxed or "If you get this thing on the street, I want one like that.
After two years and in close cooperation with TÜV Nord, the first vehicle was on the road in 2010.
Since then, over 400 vehicles have left the factory, both for the concept of guided tours throughout Europe, but also in a large number as individual unique pieces for equally positive crazy people with petrol in their blood.
Both in the manufactory itself and at all locations of the Hot Rod Fun network.
The Wenckstern Manufactory and Hot Rod Fun in numbers
2008 – Development of the WENCKSTERN Hot Rod
2009 – Company foundation and development of the Wenckstern manufactory for the production of the WENCKSTERN Hot Rod in small series.
2010 – Sale of first vehicles on individual customer request
2012 – Conception of the license concept for the HOT ROD CITY TOUR
2013 – Opening of the first location of the HOT ROD CITY TOUR in Hamburg
2014 – Production of the 200th WENCKSTERN Hot Rod "Made in Germany" and start of the international expansion of HOT ROD CITY TOUR
The concept of the HOT ROD CITY TOUR is awarded the ADAC Tourism Prize 2014 and the IdeaAheadPrize of the City of Norderstedt.
2015 – Presentation of the first WENCKSTERN Hotrod Special Series
2016 – Opening of the locations East Frisia, Münster and Aachen
2018 – Start of the HOME OF HOT ROD FUN franchise system, opening of locations in Germany, Austria and Romania
2019 – Opening of further locations in Stuttgart and Rostock
© 2019 Hot Rod Fun. All Rights Reserved.