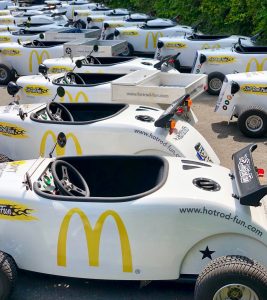 Your first step: contact us
Your logo / advertising on the Hot Rod. Contact us and we will make you an individual offer.
Remembering the last time taking a picture of a taxi passing by?
This however will be different placing your logo on one of Hot Rods. Your company or your new product on our Hot Rods is pictured, recorded or filmed 100 times each time we drive in cities centers by customers as well as people seeing us. Right after those records are spread on social media directly in people's private environment. Right where you want your product want to place. At the same time, we market your brand through direct distribution channels of Hot Rod Fun with well over 30,000 followers in Germany alone and help you and your company to get your message across.
As part of tours with your most successful employees or together with top customers, you may also use WENCKSTERN© hot rods together with our guides to improve the relationship with your company both internally and externally.
Feel free to contact us directly and we create for you and your company completely individual WENCKSTERN © Hot Rods, tailored to your company, which you can use as a permanent advertising medium for your company. This at trade fairs as well as in your showroom or in the context of end customer events.
Idea & Design
Our graphic designers create designs according to your wishes.
Production
We take care of the production of the foils as well as the assembly and disassembly of the gluing.
Booking
Lets develop together the tailor made concept for you. Just contact us @ promotion@wenckstern.com
Contacts / Day
Per vehicle about 25,000
HOT RODs in your design guide within the HOT ROD FUN tours without exception in guided group formations with multiple vehicles and head for many sights and hot spots in the city area. Especially at these hot spots, we are photographed by both our guests and countless people within the city.
These photos are shared by us, our guests and the passers-by on social channels and in the private sphere a thousand times.
We are cruising around with our vehicles each day 6 to 10 hours up to 150 kilometers.

» A minimum age of 18 years is a prerequisite.
» You need a driving license class 3 | B (car) The license must be presented before departure.
» Maximum height of about 1.95 m, with a hip height of 1.20 m
» Minimum height of about 1.60 m
» Maximum body weight of 125 kg
» The zero-alcohol-limit applies (Random controls are carried out)
» No influence of drugs or other drugs that affect the ability to drive
» Helmets are compulsory, helmets are provided free of charge
» For safety reasons, Hot Rod Fun tours only take place in suitable dry weather.
» Tours which can't be done due to the weather conditions will be postponed or will be credited as a voucher.
» The agreement of a new appointment takes place after consultation.
» You will receive a briefing before departure. Participation in this briefing is mandatory. If you would like to inform yourself in advance or if you would like to have a trial seat, we are at your disposal.
» Our terms and conditions apply.
» Acceptance of our disclaimer is a condition of participation, which must be signed before departure.
© 2019 Hot Rod Fun. All Rights Reserved.