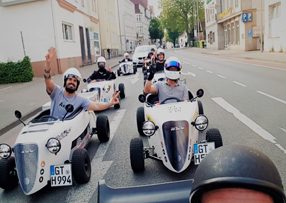 Hot Rod Fun Werther Citytour
Daily we offer you guided Hot Rod Fun Tours through Werther. A completely new experience of the streets of the region, paired with pure driving fun!
Our city tours take you either to Bielefeld or Gütersloh. 
On the city tour Bielefeld we make our way via beautiful country roads to Bielefeld, via Kirchdornberg, Hoberge-Uerentrup and a short detour through the old town to the Sparrenburg Bielefeld. Afterwards we drive through the city centre to the Finca & Bar Celona, where we treat ourselves to a little refreshment before we make our way home again in the direction of the Hot Rod Fun Station.
On to Gütersloh!
Trees streaked country roads lead us over Steinhagen, Isselhorst and Avenwedde directly into the centre.
from Gütersloh. After we have drawn the attention of all passers-by to us, we are drawn over land in the direction of
Marienfeld past the monastery gate. With a small detour through Halle we head back to our station in Werther.
Duration: from 2 hours, bookable daily
Price: from 89 € incl. Rental helmet and balaclava
without protection: 500 € deductible in case of damage
Additional insurance: For only 10 € reduction of the excess in the event of damage to 150 €.
All-inclusive package: For only 30 € reduction of the excess in the event of damage to 50 € and free cancellation up to 24 hours before the start of the tour.

You need to prepare for an international valid driving licenses for passenger cars (similar to class 3/B in Germany). Please be aware having the driving licenses physically with you at time of renting.
You easily fit in with a minimum length of 1.60m up to 1.90m. The maximum person weight amounts to 125 Kg.
We are driving on public roads participating the public traffic. For more information please see our tour descriptions.
Due to security reasons, we only offer the rides with the HotRod`s together with experience guides.
Yes a helmet is requested by law and will be provided for rent by us.
In case of damage you have a deductible of 500 €. However, this is reducible to 150 €, against a surcharge of 10 €.
The vouchers are valid for 3 years.
Not at all. You will benefit by an in deep instruction prior to the ride.
As per German traffic law, using your mobile device is strictly forbidden during tours.  However, you have the opportunity to take pictures before the tour, during the tour breaks and after the tour.
Yes of course, we are also happy to offer tours upon demand. Just touch base with us to design your individual trip.
For safety reasons, Hot Rod Fun tours only take place at suitable weather conditions.
In case of cancellations we will coordinate different times and offer you a voucher for a new appointment of the tour.
No. We have a 0.0 thousandth limit. We reserve the right to carry out random checks. Driving under the influence of drugs and medication is also prohibited.
No, it's a classic single-seater and no, we do not have a two-seater.
Basically not. Although the Hot Rod may be driven on highways, we always try to avoid it.
A tour can take place from 2 persons.
At the same time, 10 people can join a tour. With more participants, the group is shared.
© 2019 Hot Rod Fun. All Rights Reserved.