We're glad you found your way to us. With our Hot Rod Fun Tours you will experience Werther and its surroundings in a completely new way. You will always be the center of attention, because our Hot Rods are the eye-catcher.
For all our tours there are vouchers in our shop. For stag parties we offer individual Hot Rod Fun tours to your desired destinations. Also check our current event offers.
Have fun and off you go!
Hot Rod Fun Werther Tours
Buy vouchers from Hot Rod Fun Werther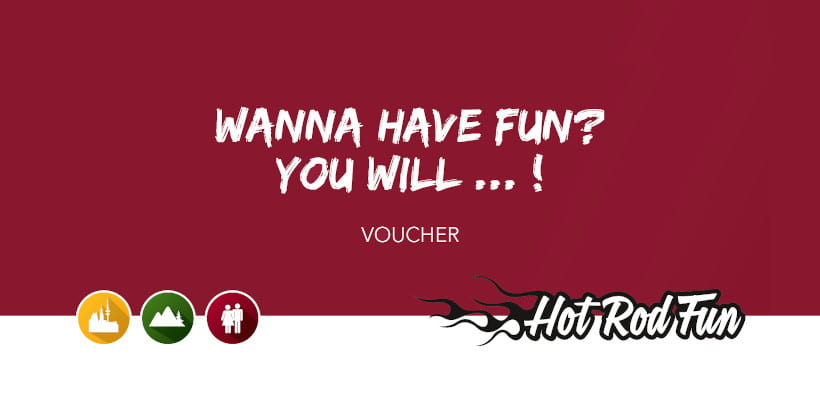 The joy is great. Whether as a Christmas present, an anniversary gift or a birthday present – vouchers from Hot Rod Fun delight everyone. Simply go to our booking tool above and select the Vouchers tab. You will then receive a complete overview of which vouchers we currently offer. The duration is 3 years by the way.
Hot Rod Fun Werther Events
The Location
Welcome to the Bonbon Stadt am Teutoburger Wald. The whole world knows our sweets. It's logical that our Hot Rod Fun tours also include the half-timbered building where it all began. 
Because of the expressionist Peter August Böckstiegel (1889-1951), born and living in Werther, it is also called Böckstiegelstadt. His birthplace, the Peter-August-Böckstiegel-Haus, is located in the Ravensberger Hügelland on the northern edge of the Teutoburg Forest and is, of course, served by us.
Hot Rod Tours
Our Hot Rod Fun tours also take you to the impressive surrounding countryside in the direction of Gütersloh and Bielefeld. There we pass the historical town centres and learn that Bielefeld naturally exists and has beautiful corners.
Company Events
For corporate clients we organize our tailor-made tours. PS fun paired with a team event. Whether on our own company premises or with us at the station – that's only possible with us. Furthermore, a modern conference room on the upper floor is ideal for training courses and seminars.
Stag Party
A real classic are our tours for stag parties. We show the future and their followers how a perfect day can start. A last taste of freedom with the Hot Rods. For larger groups in JGA format, we also offer to integrate our kart track. Aroused interest? Then let's talk about it.
Vouchers
The tour vouchers for our various Hot Rod Fun tours through Germany's most beautiful forest area are ideal as gifts for Christmas or birthdays. So put Werther's Original Caramel Bonbons in your mouth and off you go.
Gastronomy 
Besides the fun of driving, whether on the road or on our kart track. From our sports bistro with up to 60 seats you can watch the kart race track and the HotRod garage with delicious snacks and refreshing drinks.
Kart Track
The INDOOR KARTBAHN WERTHER offers you a lot of space for pure racing feeling on a 5000 m2 total area: long straights and varied curves offer exciting changes between top speed and centrifugal force. Powerful karts ensure driving fun, tested equipment and competent personnel for your safety.
Opening Hours:
MO-FR 04:00 pm - 08:00 pm
SA 12:00 pm - 08:00 pm
SU 12:00 pm - 06:00 pm
© 2020 Hot Rod Fun. All Rights Reserved.